Ever wondered if God has Big Things planned for your life? Ever been too tired to care or too busy to wonder about it much? ;-)
I can sure answer YES to both of those questions. And I'd like to introduce you to two people who have some awesome things to share on these and many more topics relevant to moms everywhere.
The first is my dear friend and amazing author
Sharon Hinck
. The second is her fictional character, Becky Miller, who I'd love to have in my circle of friends.
Sharon's newest book
Renovating Becky Miller
is at the top of my small but treasured MUST READ list. Read on to find out why...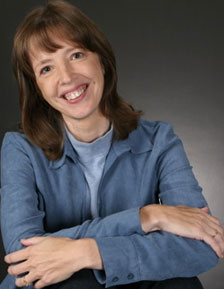 A Little About Sharon:
Sharon is a wife and mother of four children who generously provide her with fodder for her books. She's part of a weekly small-group women's Bible study (very like the group described in the BECKY MILLER novels.)
Since releasing her first novel, she only rarely gets to indulge in favorite hobbies like rubber stamping, reading, scrapbooking and gardening. Actually, sleeping and eating have gotten squeezed off her list some days, too.
She loves Celtic worship music, hiking in the North woods, animated discussions around the supper table with the family, and praying with friends.
She writes stories for the hero in all of us and her books share a common theme: The life of faith is a grand adventure, and even the small choices we make each day can be heroic. Her characters discover that God can accomplish amazing things through our ordinary lives.
Sharon's first novel,
THE SECRET LIFE OF BECKY MILLER
released last summer, and in addition to
RENOVATING BECKY MILLER
, she has a three-book fantasy series releasing with NavPress this year, and two more stand-alone mom-lit books releasing with Bethany House the following year.
What prompted you to begin writing?

I've been writing all my life as a way to grapple with questions and feelings that I needed to express. But as far as becoming a novelist, that came after years of prayer asking God for direction. After several years of seeking a "next step" in my service to Him, I felt a gentle prompting to "write," but I still didn't know if that meant parenting articles for magazines, devotions, scripts, or the kinds of things I'd written in the past. It was a process of about seven years of praying, dabbling, and seeking before I felt the inspiration to begin a novel and then the flood-gates opened.
Your website is awesome and your bio hysterical, especially THE SECRET LIFE OF SHARON HINCK. With all you've done and all you currently do, what's your counsel for busy moms who crave doing "Big Things for God"?

Thanks for the compliment on my website. PulsePoint design has been a huge blessing, because they have a special passion for Christian authors.
Moms – God's love for you isn't based on your achievements.
Take a deep breath and absorb the freedom of that truth. However, God will do "Big Things" through you. Some of these things may never look "big" by the world's standards of success. But He will bear fruit of ETERNAL value ("fruit that will last" as He calls it in the gospel of John).
It's VERY VERY hard for me to have faith in that when I'm daily confronted by my inadequacies and failures, and tempted to compare my lack of accomplishments to my friends with their very different personalities and talents. But we can take Him at His word and trust that being AVAILABLE for Him to use daily is a treasure to Him. When you get to heaven, you'll find out a zillion ways that seemingly small choices you made were a huge blessing to someone else.
Advice for those interested in writing?

When the goal of your writing time is to deepen your relationship with Christ (to show up and be there to communicate with Him and about Him) - it will be a joyful use of time, no matter the results.
If God prompts you to seek publication, by all means do that. Pray over each step. Treasure the calling, but daily offer it back to Him. I'm trying to walk in a place where I'm passionately committed to the work, but completely surrendered in my will, so that if He says, "Okay, time to stop and go a new way," I would be ready.
That's tough for me, because I get very focused. Even on a daily basis, I struggle with releasing my own agenda. When God whispers, "This friend needs a meal, your child needs a cuddle, your husband needs your time, your work will have to be set aside today," I often respond by whining about deadlines and goals and plans. Then I remember that I'm not the orchestra conductor. I'm one small instrument with a specific part to play. Sometimes (horrors!) that even includes resting for several measures.
Favorite scripture and why?

2 Cor. 4:7 Because I'm a crackled, weathered, earthen jar. Not much to look at. But God's grace can leak out through the flaws and it's such a comfort to know that.
One thing about you that no one's asked, but you wish they would?

"Sharon, I have a beach front cottage sitting empty. Could I fly you out here for a week of solitude and beauty and time to write?"
For more fun, check out Sharon's website at
http://www.sharonhinck.com/
Now meet Becky Miller:
Becky Miller believes in fixing things: children, friends, mother-in-law, sister, church . . . and her husband. So renovating a run-down farmhouse is right up her alley--the perfect antidote for the pressures of modern life.
But Becky's pursuit of the simple life is soon threatened. Her mother-in-law moves in, her son finds trouble at school, her sister arrives for a visit, her best friend is acting weird, all while work stresses mount. Worst of all, her marriage is in need of some major remodeling of its own.
Cinematic daydreams provide Becky with heroic drama. Maybe that's why she escapes into the scenes so often. In real life, everything is a muddled mess.
Who knew one old house could lead them to the brink of bankruptcy? Or that Becky's physical handicap could threaten to steal their dream?
Can Becky stop fixing everyone else and let God renovate her heart so she can find her own happy ending?
Amy here:
I fell in love with this book from the cinematic daydreams that segue perfectly into Becky's everyday life to the cast of characters I wanted to hang out with. I loved Becky's honest transparency and how easily I could relate to her. Not only that, but what God taught Becky in the pages of this book, He also taught me as I laughed, cried, and cheered for Becky and her family.
This book is more relaxing than a Calgon escape and (dare I say it?) even more enjoyable than chocolate! For those of you who know me, you KNOW that's a rave review.
I give Renovating Becky Miller 5 out of 5 stars and a wholehearted Heart Chocolate top pick of 2007!